Welcome to Faith Lutheran Church
Join us for Christmas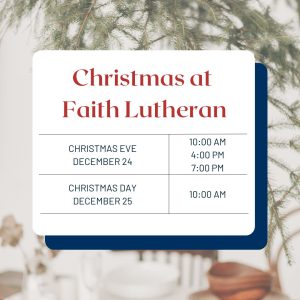 We're celebrating and sharing Christ's love in and around North Palm Beach, Florida
We are so glad you are here. We're a community of Christian believers who love Jesus and stand on the Bible as the Word of God.  At Faith Lutheran, we teach and proclaim the Christian faith as we have come to understand it according to the Lutheran Confessions because, after all, we are Lutheran.  Find out who we are here.
Our life together is defined by our vision statement.
We believe God calls us to engage, encourage and equip our church, community and world with His unfailing love.
We're so thankful that Faith Lutheran has been around since 1958, sharing God's love and being a force for love and good in our community and world.  We look forward to moving by his grace into the future and continuing to find ways to bless the people of north Palm Beach County and beyond with Jesus' peace and love.