Hours
New Day is open Monday through Friday; 7:30 a.m. to 5:30 p.m. Flexible attendance options are available.
Holidays
New Day closes for 10 holidays each year: Good Friday, Memorial Day, Independence Day (or the preceding Friday or following Monday), Labor Day, Thanksgiving Day, Thanksgiving Friday, Christmas Eve, Christmas Day, New Year's Eve, and New Year's Day.
Accepted Funding
Private Pay
Long-term Care Insurance
Medicaid Managed Care Programs
Veteran's Benefits
Cost
Daily Fee– The flat-rate daily fee of $85.00 includes a full day of wide-ranging activities, health care, bathroom assistance, and a nutritionally balanced lunch and refreshments. A half day (4 hours) is available and is $50.00.   Fees for attended days are billed monthly. The first day of attendance is considered a trial day and is free of charge.
Billing & Payment Schedule – New Day sends out bills monthly. Payments are expected in a timely fashion, before the next billing cycle. Cash, checks or credit cards are accepted. Make checks payable to Faith Lutheran DBA New Day. If you have questions regarding your bill, please don't hesitate to call (561) 844-0012 or email cbertram@faithnpb.com.
After Closing Hours Fee – Please note that should the participant be picked up after the center closes there will be an automatic charge of $1 per minute after 5:30 PM. Example: 20 minutes late will be a $20.00 fee.
Personal Care Fee – Should the need for personal care services arise (e.g. shower), because it is becoming too difficult at home, we are happy to schedule routine care for a charge of $20 for each personal care service. This service will be arranged and scheduled during regular program hours. In extreme cases, an unscheduled shower may be required, in which case, you will be notified and New Day will charge $20 for this service.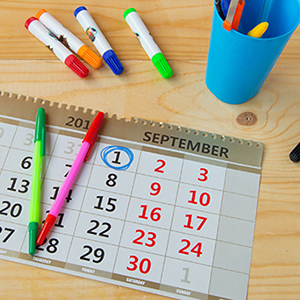 Information on Enrolling
Simply fill out an application, which includes a medical form to be completed by a Florida licensed physician before the first day of attendance at New Day. It must include a signed physician statement that client is free of communicable form of TB and signs and symptoms of other communicable diseases with in 45 days prior to the first day of attendance.
Clothing – Occasionally, participants have spills, become incontinent or become sick and will feel more comfortable changing their clothes. Please leave a change of clothing at the center at all times. Label all articles with participant's name. A complete change of clothing includes slacks, underwear/Depends, and socks. A sweater or lightweight jacket is encouraged for the times they get chilled. If needed, provide a supply of disposable undergarments and write participant's name on the package.
Medication– If the participant needs to take medication while they are at the program, the New Day Nurse and or Medication Technician  (with signed consent and a doctor's order) will keep medication secured in a locked cabinet and assist participants as needed. The medication must be provided in the original labeled container from the pharmacy. Ask your pharmacist for a duplicate container each time that you refill a prescription.
Transportation
New Day does not provide transportation to or from the center. If you are in need of transportation services for the participant, Palm Tran CONNECTION-Paratransit  (a county service) can provide this door-to-door service with handicap-accessible vehicles for a one-way fee of $3.50 or a round-trip fee of $7.00. To sign up with Palm Tran Connection- Paratransit you must call their eligibility department at 561-649-9838 and choose option#7.
We encourage you to visit us in North Palm Beach. If you would like more information or want to schedule a visit and tour, please call us at (561) 844-0012 or send us an email at cbertram@faithnpb.com.
Where You'll Find Grace
You're welcome here. Join us to celebrate, to mourn, to give thanks, to ask questions, or to pray. Come as you are.